Chalmers and Redwoods exist to create safe communities for all.
Yet even in the safest communities, people still get hurt. That's why we are committed to standing by your side and offering our support when a serious incident does occur. You can expect more from us than you would a traditional insurance agency or company.
The exact process will depend on the type of claim and the specific circumstances in which it happened. Know that working through a serious claim is a long process. We will be there with you through every step.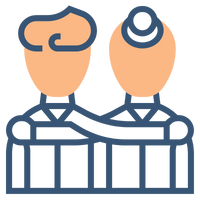 Empathy
Behind every claim, there are human stories. Your community's needs are at the heart of our decision-making.

Comprehensive Support
From media statements to staff counseling, we focus on organization-wide support, not just financial settlements.

Transparency & Involvement
You know your community best. Wherever possible, we will involve you in decisions about the claim.
The Claims Process
The sooner an incident is reported to us—and the more complete information we receive—the better placed we are to respond appropriately. Our incident reporting process is designed to facilitate fast and accurate claims reporting, giving our team the information they need to help your organization and the claimant heal.
How To Report a Claim
Call Chalmers at 1-800-360-3000
If you know you are a Redwoods client, you can also report a major incident to Redwoods immediately via phone: Phone (Daytime): 800-463-8546 Phone (After Hours): 877-590-4678.
If you are a Redwoods client, report minor incidents to Redwoods within 24 hours of the date of the incident via the Online Incident Report Form. The Online Incident Report Form offers a more flexible, convenient option for your teams to report incidents that occur.